---
Montag, 10. Dezember 2018

welcome page
»
environment
»
sustainability & intergenerational justice
---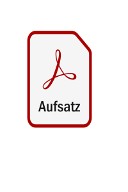 download size:
approx. 313 kb
Ralf Grote, Benedikt Schöpke, An-Ping Zeng und Garabed Antranikian
Biotransformationsreaktionen in Mikrosystemen - Visionen für die Industrielle Biotechnik
13 pages · 2.80 EUR
(May 2010)
I agree with the terms and conditions, especially point 10 (only private use, no transmission to third party) and accept that my order cannot be revoked.
---
quotable essay from ...

Die Autoren
Dr. Ralf Grote

Leiter des Koordinationsbüros der DBU-geförderten Programme Verbund Biokatalyse und InnovationsCentrum Biokatalyse und seit 2005 stellvertretender wissenschaftlicher Direktor der International Collection of Biocatalysts (BiocatCollection).
Prof. Garabed Antranikian

wurde 1951 in Amman, Jordanien, geboren und studierte bis 1976 Biologie an der amerikanischen Universität Beirut. Nach seiner Promotion (1980) und Habilitation (1988) am Institut für Mikrobiologie und Genetik der Georg-August-Universität erhielt er einen Ruf auf die Professur für Mikrobiologie an der Technischen Universität Hamburg-Harburg (TUHH). Dort leitet er das Institut für Technische Mikrobiologie. Professor Antranikian ist Vizepräsident der TUHH, Präsident der International Society for Extremophiles und Herausgeber der Fachzeitschrift "Extremophiles". 2002 wurde Professor Antranikian in Anerkennung seiner herausragenden Leistungen die Ehrendoktorwürde der National Academy of Sciences of Armenia verliehen. Im Jahr 2004 erhielt er den Umweltpreis der Deutschen Bundesstiftung Umwelt.
Benedikt Schöpke
Jg. 1984, Dipl.-Biotech, Studium "Molekulare Biotechnologie" an der Universität Bielefeld. Forschungspraktikum am Department of Chemical Engineering and Materials Science bei Prof. Wei- Shou Hu an der University of Minnesota. Diplomarbeit bei Roche Diagnostics GmbH, Penzberg. Seit 2008 Wissenschaftlicher Mitarbeiter (Doktorand) im Institut für Bioprozess- und Biosystemtechnik bei Prof. An-Ping Zeng an der Technischen Universität Hamburg Harburg.
Prof. An-Ping Zeng

studied chemical engineering in China. He did his PhD work in the area of biochemical engineering at the former German Research Center for Biotechnology (GBF) in Braunschweig, Germany. He received a PhD degree in 1990 from the Technical University of Braunschweig. After Postdoc work in Australia and USA he returned 1993 to GBF as a permanent scientist. He received his Habilitation in Biotechnology in 2000 from TU Braunschweig, where he became Professor (apl.) in 2004. Since 2006 he is a full professor and head of the Institute of Bioprocess and Biosystems Engineering at the Hamburg University of Technology; since 2009 Dean of the School of Chemical and Process Engineering. Prof. Zeng's main research interests are in bioprocess engineering, systems and synthetic biology. He published more than 120 journal papers in these areas. Presently, he is on the editorial board of several scientific journals and coordinator of 5 large national and international cooperation projects in industrial biotechnology and systems biology. He is speaker of the recently established Hamburg excellent cluster "Fundamentals for Synthetic Biological Systems".
---