---
Montag, 10. Dezember 2018

welcome page
»
economy
»
work, money, capital, production & prices
»
money & financial markets
---
work, money, capital, production & prices
---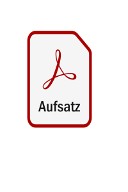 download size:
approx. 261 kb
Hansjörg Herr
Financial systems in developing countries and economic development
28 pages · 3.80 EUR
(December 2008)
I agree with the terms and conditions, especially point 10 (only private use, no transmission to third party) and accept that my order cannot be revoked.

In his contribution "Financial systems in developing countries and economic development" Hansjörg Herr puts forward the argument that in spite of financial globalisation domestic development depends crucially on domestic investment financed by domestic credit in domestic currency. A number of East Asian countries, followed by China seem to be good examples of such an accumulation process. The relatively low quality of currencies of developing countries is one of the most difficult hurdles for development, the author argues. It prevents a domestically financed Schumpeterian-Keynesian credit-investment-income process because a large part of domestic monetary wealth during such a process is exchanged in foreign currency, triggers depreciation and leads to an extremely tight macroeconomic monetary budget constraint which suppresses development. Replacing a domestic accumulation process in domestic money with a foreign financed accumulation process is therefore dangerous and works only under very special conditions. The most important ones are the creation of sufficient domestic demand in spite of demand-reducing current account deficits, long-term stable capital inflows and successful measures against Dutch disease effects. In too many cases the attempt to create sustainable development via net capital inflows and current account deficits have failed and ended in twin crises and a perpetuation of underdevelopment, according to Herr. He therefore concludes that a superior development strategy seems to be to boost domestic investment by domestic credit in domestic currency, allow some selected foreign direct investment inflows, and restrict other types of capital flows, as well as to prevent current account deficits.
---
quotable essay from ...

Der Autor
Prof. Dr. Hansjörg Herr

seit 1994 Profesor an der FHW Berlin.
[more titles]
---