---
Dienstag, 11. Dezember 2018

welcome page
---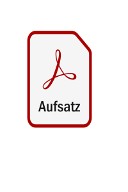 download size:
approx. 162 kb
Traute Fiedler
Nachhaltige Chemieproduktion
24 pages · 3.91 EUR
(May 2010)
I agree with the terms and conditions, especially point 10 (only private use, no transmission to third party) and accept that my order cannot be revoked.
---
quotable essay from ...

Die Autorin
Traute Fiedler

Studium der Chemie, Diplomarbeit zu halogenorganischen Stoffen in kommunalem Abwasser und Sickerwässern der Bodenpassage, Aufbaustudium Umweltmanagement, Weiterbildungsfernstudium zu Energiemanagement. Tätigkeiten im Umweltschutz und Nachhaltiger Entwicklung wie Mitaufbau eines internetgestützten Fachinformationsdienstes für die Kreislaufwirtschaft, Agenda 21-Koordinatorin, Mitarbeit an Projektentwicklung und -koordination, Leitung der Öffentlichkeitsarbeits- und Vernetzungskampagne "Woche der Zukunftsfähigkeit", Mitarbeit an einer Machbarkeitsstudie für ein Informationssystem zu Alternativen und sonstigen Maßnahmen zur Minimierung des Einsatzes von Biozidprodukten, seit 2005 wissenschaftliche Angestellte im Umweltbundesamt, jetzt Abteilung Nachhaltige Produktion, Ressourcenschonung und Stoffkreisläufe, Fachgebiet Anlagensicherheit.
---